RaySearch

Treatment Planning System in Radiation Therapy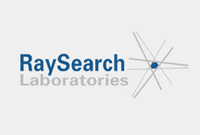 RaySearch is a software driven company focused on cancer treatment. Software has as unlimited potential, and therefore software development is the driving force for innovation in oncology.
The treatment planning Software RayStation brings unique innovations for oncology treatments, and it is present in more than 800 clinics, in 40 countries.
Automated Planning: save time and reduce the risk of error by automating treatment planning. Advanced plan-generating protocols, scripting, automated breast planning, fallback planning, machine learning and plan explorer are some of the tools available in RayStation — the first treatment planning system to incorporate machine learning applications.
Adaptive Radiotherapy: RayStation was specifically designed to turn adaptive Therapy faster and easier in the clinic, including dose tracking modes, deformable registration and Adaptive Re-Planning.
Multi Criteria Optimization: avoid iterative optimization with adjustments to functions and weights with multi-criteria optimization in RayStation. This module instead allows Pareto optimal treatment plans to be generated according to user-specified objectives and constraints.
Fallback Planning: fallback planning is a tool for creating additional plans to be used in a contingency situation, enabling a patient to be treated on another machine, possibly with a different modality and/or treatment technique, in case the original machine is unavailable. It can drastically reduce planning time in emergency situations when a machine is down allowing the patients´ treatment to continue and reducing stress on staff.